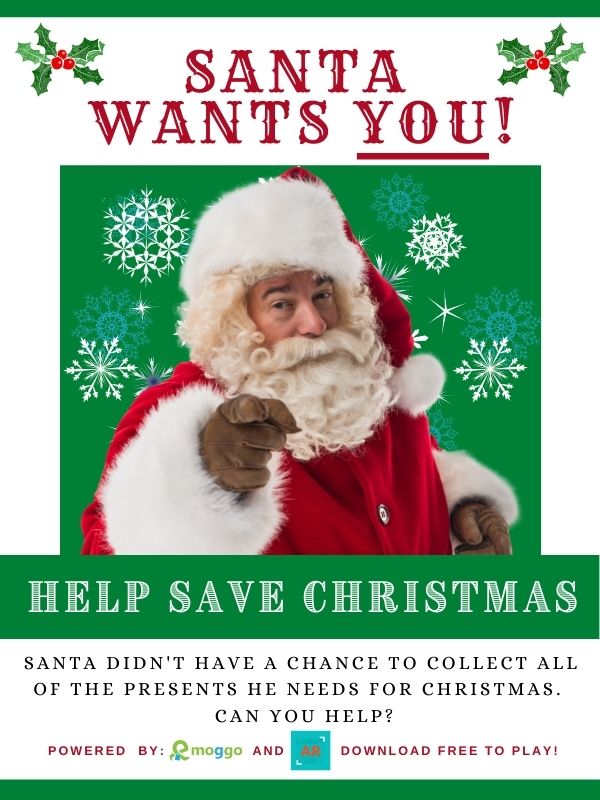 THE GREAT GIFT HUNT
Oh No!  The North Pole has not been immune to the global pandemic and after coming out of a lockdown that kept Santa away from our parade, they are still looking for some unique, local gifts for Christmas this year.
Santa needs your to help find the missing gifts in time for Christmas.  Can you help?
The Great Gift Hunt is an augmented reality adventure for those who are willing to take on a mission to help Santa save Christmas!
How to Play
First, download the Emoggo app, free from Google Play or the App Store.  Make sure you have your location services turned on, so you can discover the locations of the missing gifts.
Next, download the free LooksAR pro app from Google Play or the App Store.  Again, ensure your location services are on, so you can see the missing gifts and send them to the North Pole.
Go Hunting!  Use the Emoggo app to see where the missing gifts have been sighted.  You can scroll through all of the listings or use the filter and select 'Sale on now' to shorten the list.
Once you arrive at the location, look for a poster that has a mountain of gifts.  Use the LooksAR pro app to scan the poster and follow the instructions to send it to Santa.
Finally, once you have done your job, Santa, and the local business, will reward you for being such a good elf!  Take a picture of your reward to redeem.  Then, start again!
Safety First
That grinchy virus who-shall-not-be-named is still out there, so everyone needs to abide by local health regulations!
Maintain 6 feet of physical distancing from your fellow Gift Hunters and local shoppers.
Wear a mask when you are entering a business location (posters may be indoor or outdoor).
Carry your sanitizer or use the sanitizer provided by the business location.
Anyone who fails to follow these guidelines will forfeit their reward – and that's not very merry.
Fine Print
Yes, yes, we all love the fine print, but here are some high level things to keep in mind:
Rewards are being offered by the individual business locations – if you have any questions pertaining to the reward or how to redeem, please direct them to the business.
Rewards are not to be combined with any other offers.
Check the redemption instructions, restrictions and expiry dates for each reward – they may alter from business to business.
This adventure will run from December 5 through December 24.  Business locations may change through that time, so be sure to check in with the Emoggo app regularly.  The times of access to the poster will vary by location.
Rewards are only available once per device, so make sure you have captured an image of it when you earn it.  Neither Emoggo, LooksAR pro nor the business location is responsible for misused or misplaced rewards.
Even Amazon goes down sometimes, so we can't guarantee that the apps will remain functional at all times.  If you are having issues, here are some things to try:
Ensure your location services are on for both apps.  Emoggo and LooksAR pro are coded to GPS locations, if your device isn't, it's not going to work.
Ensure you have working data or wi-fi access.
Check the lighting – for outdoor posters, there must be sufficient light for the LooksAR pro app to recognize the poster.  Use your device's flashlight and try again in low light situations.
If you encounter any major technical issues, then please let us know.  We are startup's and all information is good information at this stage.  Please provide the model of your device and the iOS or Android operating system version.
Otherwise, please refer to the Terms of Service and Privacy Policy for the rest of the tiny print stuff.