Santa did not have time to pick up the gifts he usually does when he visits Milton.  He is asking Milton residents and visitors to help him find his missing gifts with an Augmented Reality Gift Hunt!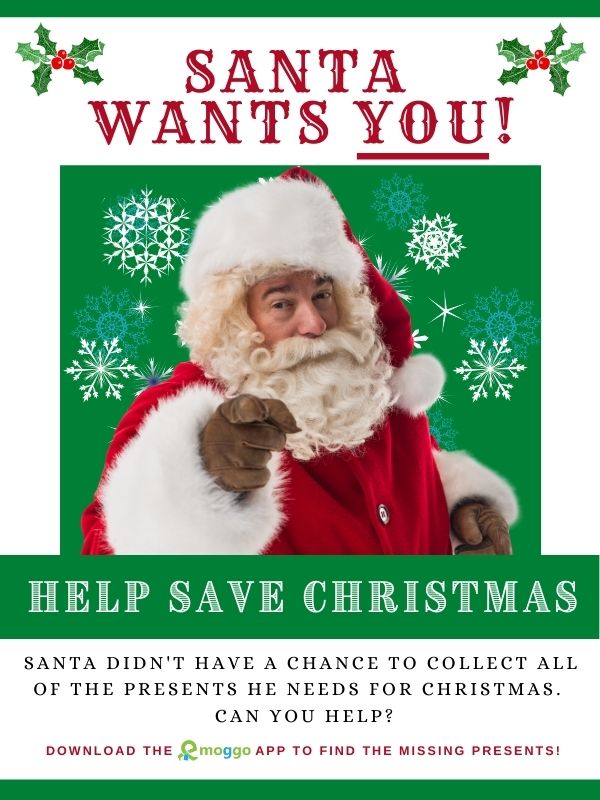 What exactly is an Augmented Reality Gift Hunt?
In the simplest terms, augmented reality adds a digital layer to a still item, like a poster image, that is only viewable through a mobile device.  For this event, think Pokémon Go, where Gift Hunters use the app the locate the your business and then use the augmented reality feature with a poster to send the gift to the North Pole and earn a reward.
Are you a Business that Santa usually visits?
Join us in the hunt!  Your business could be the location of the missing gifts.  Here is how you can get involved:
 Consent to display the event poster on your window or inside your location.
 Share a promotion idea that can be tailored into the experience.
A member of our team will provide a poster that Gift Hunters will use to locate the missing gifts and send them to the North Pole, help you finalize a promotion for Gift Hunters, and provide you with additional digital and printed marketing materials to promote your participation.
And, since this is the season of giving, Emoggo will donate $25 on your behalf to the charity partner of your choosing:
Re:Soul Youth Centre: 100% donation funded, the Re:Soul Youth Centre in Milton's only dedicated youth drop-in centre, providing a safe space where all are welcome for youth grades 6-12.
Community Foundation of Halton North: a legacy fund that provides grants to a multitude of local causes, including ADAPT, Darling Home for Kids, Halton Poverty Roundtable and The Townsend Smith Foundation.
Milton Santa Claus Parade: A cherished and self-funded volunteer effort since 1933.
What do the Gift Hunters do?
Gift Hunters will use the Emoggo app to locate the participating businesses and locations of the missing gifts.  Once they arrive, they will access our partner's LooksAR pro app to scan the poster image in search of Santa's lost gift.  Once they find it, they can tap on it to send it to the North Pole and earn a reward!
Rewards can be anything you want – from a candy case, to a discount or free item, to an invitation for an online or upcoming class or event, to a special entry into a draw for a single prize.  Gift Hunters will take a picture of the reward and share it with you to redeem (one reward per device only).  You can specify when and how to redeem and the expiry date of your promotion.
What about COVID-19?
Yes, this insidious virus is a concern – and we want everyone to feel safe.
The posters for the event are good for outdoor and indoor use.  If you are concerned about allowing proper spacing, you can attached the poster to your door or window.
Gift Hunters must adhere to all public health requirements or forfeit their reward.
We've got this!  Let's have some fun!